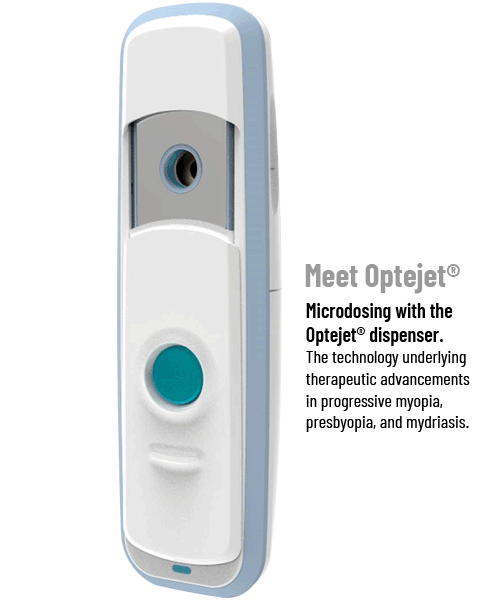 What You Should Know:
– Eyenovia, Inc., a pre-commercial ophthalmic technology company developing the Optejet® delivery system for use both in combination with its own drug-device therapeutic programs for mydriasis, presbyopia and pediatric progressive myopia as well as out-licensing for additional indications, today announced that the company enters a $15M credit facility with the Avenue Venture Opportunities Fund, L.P. ("Avenue Venture Debt Fund" or "Avenue").
– The financing is intended to support manufacturing in anticipation of a MydCombi launch and clinical supply for ongoing programs.
Eyenovia's Optejet Dispenser
Eyenovia is developing a pipeline of advanced therapeutics based on its proprietary Microdose Array Print (MAP™) platform technology. Eyenovia aims to achieve clinical microdosing of next-generation formulations of well-established ophthalmic pharmaceutical agents using its high-precision targeted ocular delivery system, which has the potential to replace conventional eyedropper delivery and improve safety, tolerability, patient compliance and topical delivery success for ophthalmic eye treatments.
Eyenovia's Optejet® dispenser with MAP™(Microdose Array Print) technology therapeutics could progress eyecare beyond the standard of traditional eyedroppers to a modern, efficient, effective, precision delivery of ocular pharmaceuticals.
Financial Details
As part of the agreement,  Eyenovia received $10M of gross proceeds at closing (approximately $9.5M net). The additional $5 million will be available, at the company's option, should MydCombi™ be approved for marketing in the U.S. by the Food and Drug Administration by August 2023. The Avenue facility replaces the company's Silicon Valley Bank facility, which was recently paid off.
Eyenovia's current pro-forma unrestricted cash balance, including approximately $9.5M of net proceeds from this facility, is approximately $25.5M.