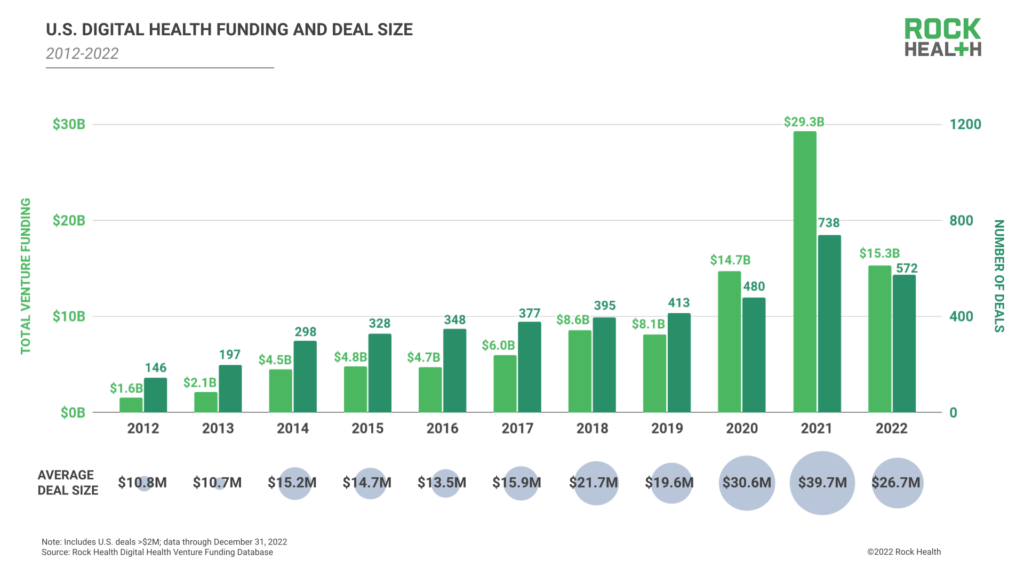 What You Should Know:
– In a downtrodden market climate, things don't need to feel doom and gloom, according to Rock Health's Annual 2022 digital health funding report. 2022 was a necessary reminder that investment is cyclical and that strong players build resilience in weathering funding climate changes.
– Analysts expect that 2023 will be built up on slow, steady, and maybe even boring strategies for healthcare startups and enterprises alike: managing cash, restructuring to accommodate revenue volatility, and investing in technology infrastructure.
Learning From A Turbulent Year – Trends and Insights Regarding Digital Health Funding in 2022
As the year 2022 draws to a close, many will remember it as being notorious for inflation, stock drops, 7 interest rate hikes that seemed to be shaping up into a possible recession. In this period of extreme economic uncertainty, the digital health sector suffered quite a bit, closing in on what is now widely believed to be the tail end of a macro funding cycle centered around the COVID-19-era investment boom.
Rock Health report key insights from the past year in the sphere of digital health funding are as follows:
– A Recap: 2022's total funding among US-based digital health startups amounted to $15.3B across 572 deals, with an average deal size of $27M. Not only did 2022's annual funding total come in at just over half of 2021's $29.3B2, but it also just squeaked past 2020s $14.7B sum. Notably, 2022's year's Q4 $2.7B total was less than half of last year's Q4 raise ($7.4B). Analysts will most likely look back on the last few quarters as a macro funding cycle, one that was governed by COVID. Between Q3 2019 and Q2 2021, investors continuously increased investments in digital health quarter-over-quarter for seven straight quarters, with one dip in Q2 2020. On the way down from the Q2 2021 peak to the present day, investors steadily decreased the flow of capital every quarter, excluding two quarterly upticks: one in Q4 2021 and a smaller notch in Q4 2022. Looking back, the influence of the COVID-19 pandemic can not be understated – COVID catalyzed digital health innovation, investment, and regulatory reform throughout 2020 and 2021. Intertwined with the public health emergency, government stimulus measures contributed to an artificially depressed cost of capital in 2020-2021, encouraging investors to make bigger and riskier bets in emerging areas like digital health.
2. Reluctance to Invest: A major factor that contributed to 2022's downhill funding trajectory was the reluctance exhibited by investors to invest in late-stage deals. This led to a lack of mega-deals, especially relative to prior years. In 2022, 35 digital health startups raised rounds of $100M or more. While this may sound like a hefty cohort, it pales in comparison to the volume of mega-rounds raised in 2021 (88) and even 2020. Some of 2022's "missing" mega deals stemmed from growth-stage digital health companies' reluctance to raise in this market environment for fear of the dreaded down round. Additionally, startups that once expected to mega-raise their way into the unicorn club were faced with investors who were less willing to take flights of fancy on $1B valuations; as a result, they may have chosen to delay big raises. "A few months ago, it was detrimental for a digital health startup to say it was profitable—it implied the company wasn't growing fast enough. Now, startups with strong financials and balanced valuations are attracting investor and acquirer interest."
— Ulili Onovakpuri, Managing Partner, Kapor Capital
3. Valuation Risks: A shift was noticed two quarters ago in investors' attention from growth-stage players to early-stage digital health companies being perceived as less likely to carry inflated valuations from 2020-2021. In a market where late-stage transaction volume has plummeted, it would be safe to anticipate that 2022's cohort of larger Series A deals may experience above-average value attrition, risking down rounds at their Series B raises or later.
4. Health Systems and Innovation: In a year saturated with roadblocks, health systems struggled in particular. Excluding COVID-19 and behavioral care visits, patient encounters were 6.2% lower compared to early 2019, suggesting that some patients permanently forwent pandemic-delayed care. Staffing crises and wage inflation hiked up operating costs faster than CMS-influenced rate adjustments, squeezing health system margins rather than allowing hospitals to pass costs through to payers. As a cherry on top, burnout pushed record numbers of clinicians to retire or work fewer hours, which kept health systems in crisis mode…and paying crisis wages. With all these forces compounded, several hospitals across the U.S. recorded losses of over one billion dollars in 2022. Furthermore, health systems also took initiative to make a paradigm shift toward care models that lower operational burden. This facilitated the launch of ambitious hospital-at-home initiatives to free up hospital beds, allow the top-of-license practice, and reimagine care pathways. Additionally, the year also saw key health systems continue to expand and explore new business ventures that would diversify revenue streams in the upcoming years. Lastly, Health systems' 2022 innovation "grace under pressure" is noteworthy and sets a precedent for other major healthcare companies facing less difficult, but nonetheless challenging situations.
5. The Role of BigTech in Reorienting Healthcare Initiatives: Due to volatile active user numbers and a largely declining profitability due to weak advertising revenue, Big Tech had to face deeply depressed stock prices whereas last year's efforts were meant to diversify revenue streams saw Big Tech players building up businesses in data infrastructure, analytics, and finance. The key takeaway here is that the best healthcare entry points exist where teams already hold expertise (fertile ground remains in these familiar pastures). Rather than aiming to "disrupt" the entire healthcare system, the focus is best placed on applying practiced skill sets to top healthcare and research problems.
6. D2C Predictions: Analysts ended 2021 reflecting on the rise of digital health solutions selling direct-to-consumer, and predicted an upward trajectory of D2C in 2022. The year, however, did not go too well for D2C digital health players, with only 37% of the digital health companies that raised in 2022 selling directly to consumers, as opposed to 43% in 2021. "D2C businesses that have established strong consumer DNA and proven unit economics could be well-positioned to add more healthcare services under their brand umbrellas." — David Kopp, Executive Chair, Oar Health