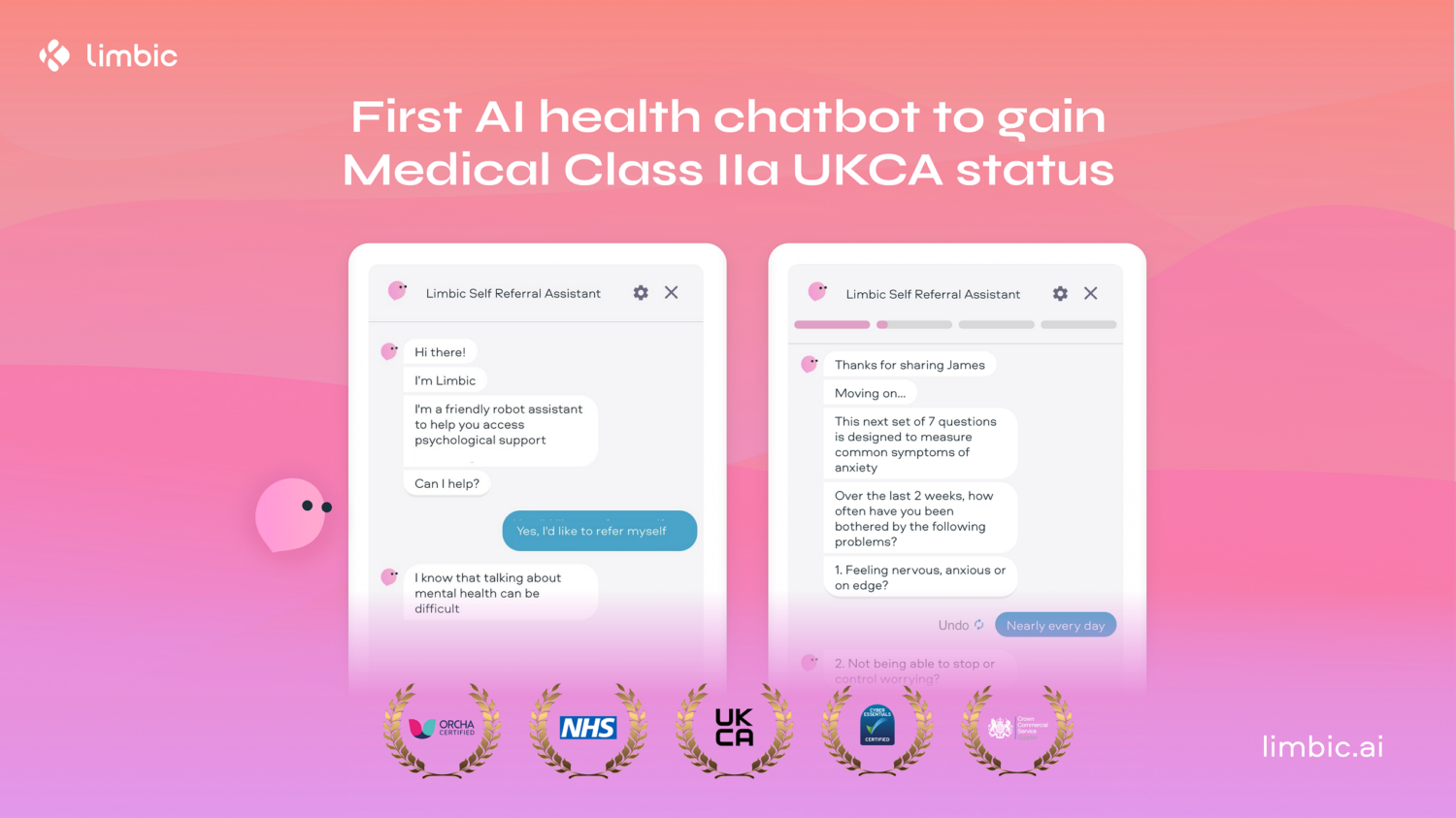 What You Should Know:
– London-headquartered digital health startup, Limbic, has announced that its psychological assessment tool, Limbic Access, has achieved Class IIa UKCA medical device certification – making it the first and only AI mental health chatbot in the world to earn this status for its clinical effectiveness, safety and risk management.
– The certification confirms that its mental health e-triage chatbot, which is able to diagnose mental health disorders with an accuracy rate of 93%, can be safely incorporated into the psychological therapy pathway to support patient self-referral – driving significant efficiencies to support overstretched clinicians and improving patient outcomes. 
Health tech start-up achieves world-first certification for AI mental health chatbot that diagnoses disorders with 93% accuracy
It comes as NHS Improving Access to Psychological Therapies (IAPT) services are experiencing significant capacity challenges in the face of record demand – with latest data showing a 21.5% increase in people accessing NHS talking therapies services over the last year.
130,000 NHS patients have so far accessed psychological therapy using Limbic's AI mental health chatbot, making it the most widely used solution of its kind in the NHS. UKCA auditors, SGS, reviewed clinical evidence generated from more than 60,000 referrals and found that, when compared with standard referral methods such as telephone calls and online forms,
Limbic Access delivered:
1. 53% improvement in recovery rates 
2. 45% fewer changes in treatment, due to increased triage accuracy
3. 23.5% reduction in assessment time – a saving of 12.7 minutes per referral 
4. 18% reduction in treatment dropouts
5. 13% reduction in wait time for assessment 
6. 5% shorter wait time for treatment 
Limbic Access is already working with 25% of NHS IAPTs to augment their therapy process and, to date, it is estimated to have saved IAPT services in England more than 30,000 clinical hours. At a time when the NHS is massively overburdened – latest data shows a 16.2% increase in the number of people in contact with NHS mental health services over the last 12 months – this is critical time released for staff. 
Through Limbic Access and its sister product, Limbic Care – designed to provide personalised support and remote monitoring for patients in treatment – the rapidly growing tech company has created an end-to-end solution for talk therapy that's designed to augment psychological therapy from start to finish.
As well as being the only Class IIa UKCA marked psychological assessment tool, Limbic Access was awarded the highest score of any level 4 mental health app by ORCHA, the UK's leading healthcare app evaluation organisation. It is currently the only mental health e-triage chatbot to have been through ORCHA's rigorous review process.
"This is a landmark moment for mental healthcare, as it provides strong evidence that our psychological assessment software – the first in the world to gain this level of certification – is a safe and clinically effective way to augment the therapy process within mental health services at a time when such support has never been more needed," said Dr Ross Harper, co-founder and CEO of Limbic.