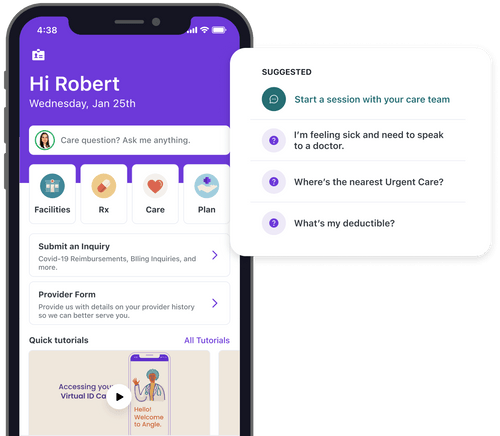 What You Should Know:
– Angle Health, a digital first health insurance carrier raises $58M in Series A funding, making health insurance more convenient, approachable, and affordable for employers and members. The round was led by Portage with participation from PruVen Capital, Wing Venture Capital, SixThirty Ventures, Mighty Capital, Wormhole Capital, Mindset Ventures, Crew Capital, Aloft VC, and Pilot founder Waseem Daher; and support from existing investors Blumberg Capital, Correlation Ventures, TSVC, and Y Combinator.
– Launched in 2021, Angle Health is bridging the divide between health insurance, traditional healthcare providers, digital health, and wellness by bringing these disparate point solutions into a cohesive ecosystem.
Health Insurance for the Modern Employee
Co-founded by former Palantir engineers, CEO Ty Wang and CTO Anirban Gangopadhyay in 2021, Angle Health was born out of the duo's frustration with their personal healthcare experiences. Angle Health is a full-stack health insurance carrier delivering comprehensive healthcare benefits tailored to startups and technology companies. Powered by its integrated, AI-enabled technology platform, Angle Health provides a digital-first care navigation experience with its fully tailored comprehensive healthcare benefit plans for employers. Telemedicine, behavioral health, and other digital health solutions – normally sitting outside of the traditional health insurance environment – are core offerings integrated into all Angle Health plans at minimal to no cost for members.
Angle Health's insurance policies are reinsured by an insurer with a financial strength rating of A+ from both A.M. Best and Standard & Poor's. With tens of thousands of members across states, and access to a national network of healthcare providers and facilities, top employers, and a growing roster of brokers and agencies, including NFP, Gallagher, GBS/Leavitt, Aon, and Hub, are choosing Angle Health as their healthcare insurance and benefits provider.
Key Benefits for Members, Employees, Brokers
Employers, brokers, and members benefit from Angle Health's unified health benefits services:
For Members
– Personalized, mobile-first member engagement: Angle Health meets members wherever they are on their journey. Angle's chat-first mobile app is a true partner in care. Whether a member has a question about providers in the network, service costs, or how to navigate a medical concern, Angle Health is always there to remove the burden of access and navigation.
– Access to board-certified physicians, psychiatrists, psychologists, and therapists is always available, anytime and anywhere. On-demand pharmacy benefits are offered through a broad network of pharmacies alongside convenient options for home delivery.
– Concierge clinical management:  Angle Health clinical teams guide members on their everyday health questions, including acute and chronic needs, with one-on-one clinical support. Angle nurses prioritize a multidisciplinary approach, ensuring an individualized, tech-forward clinical wellness experience.
For Employers and Brokers
– Fully customizable benefits packages to meet the needs of each employer and their employees
– Instant quoting and competitive pricing across traditional ACA Small Group plans, level-funded solutions, and fully-insured Large Group products2
– Streamlined plan administration, delivering seamless employee enrollment and engagement, fully integrated with benefits administration and payroll