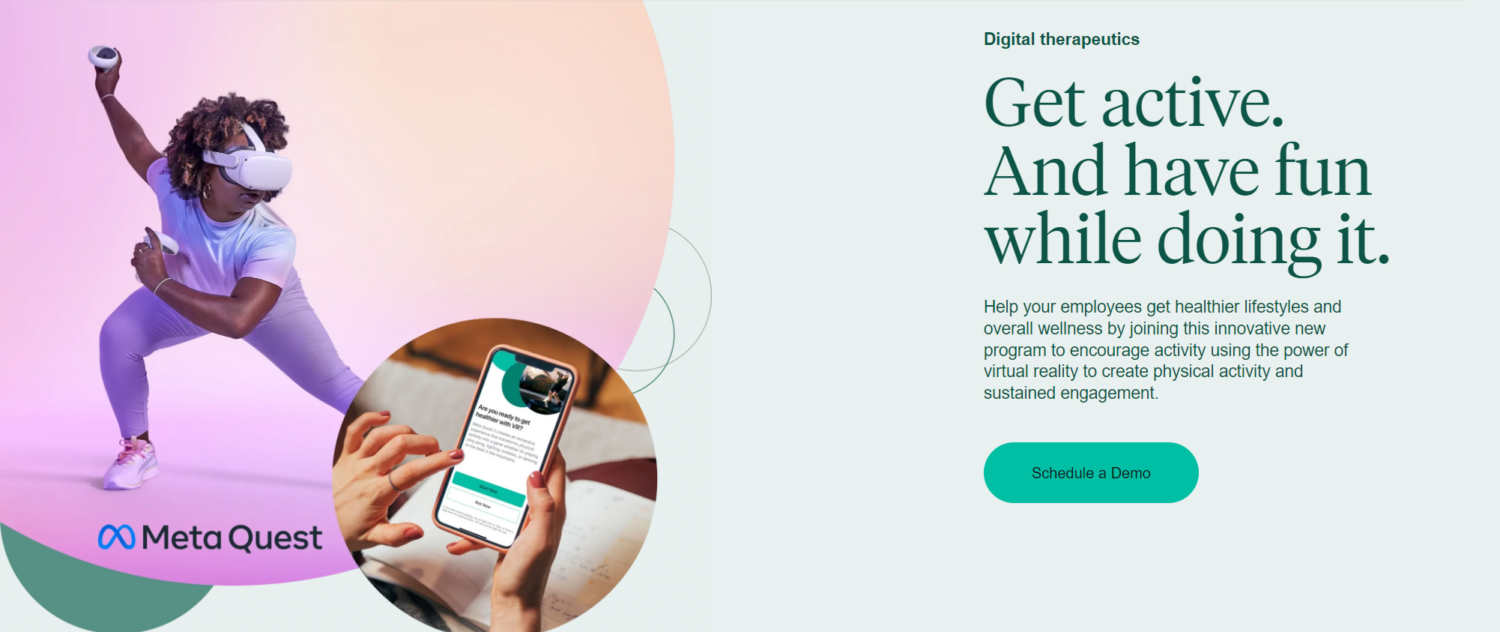 What You Should Know:
– Digital health company Sharecare launches Get Active, a new virtual reality program to help employers encourage exercise among their workforces in a fun, approachable, and accessible way.
– In a pilot with its customer Lennar Corporation, one of the nation's leading homebuilders, Sharecare's Get Active program for Meta Quest 2 yielded strong results for both healthy and high-risk Associates. 
Lennar Pilot Program
In a pilot conducted in late 2022 with Lennar Corporation, Sharecare's Get Active program generated promising results for their Associates, including those diagnosed with or at the greatest risk of developing diseases such as anxiety and depression, cancer, diabetes, and musculoskeletal disorders. Among high-risk participants, the pilot with Lennar yielded an engagement rate of 82% and a 280% increase in average weekly exercise minutes per person compared to pre-program. Following the success of the pilot, Lennar is introducing Get Active as a core offering for its eligible Associate population in 2023, including those at risk for or managing a chronic disease.
How GetActive Works
While health plans and self-insured employers actively seek ways to increase member usage across their well-being offerings, most yield low sustained engagement. Sharecare's Get Active program is designed to engage employees in physical activity by enabling "exercise by accident" through a convenient and gamified movement experience using the Meta Quest 2. Get Active also removes access barriers for those who may be disabled, uncomfortable with public gyms, or prefer in-home workouts, featuring a plethora of virtual activity options for both standing and seated settings – from stretching and ping pong to fighting zombies and basketball.
Availability
Beginning this month, Get Active is available for Sharecare's employer customers to integrate into their workplace well-being and health benefits platform configurations. For client partners interested in deploying Get Active for their workforce, Sharecare works alongside them to stratify the eligible population for the program. For clients enrolled in Sharecare+, the digital health company's whole health, payor agnostic advocacy solution, family advocates also will work to enroll eligible members in the program.
After eligible members enroll in Sharecare's Get Active program, they will receive a Meta Quest 2 VR headset as well as an exercise guide featuring recommended movement-related VR apps to encourage exercise. Participants can use Meta Quest Move to count their activity minutes generated via the headset; and, with their consent, synchronize minutes worked out in VR to the Sharecare app, where the participant's activity data is used for their personal weekly and monthly movement goals and employer-sponsored rewards programs